Guess who's been featured in a global list of Top Plumbing Blogs?
The Top 50 Plumbing Blogs & Websites for Plumbers & Plumbing Professionals!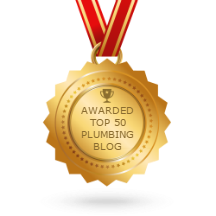 Are you Kidding! So my usual morning routine goes something like this. Travel from my home in Staten Island into Brooklyn hit the local Dunkin Doughnuts at about 6:40 am and in the office by 7:50/7:00 am depending on traffic. Prepare my breakfast (usually egg whites and some fruit) then grab my large black hot coffee and hit the desktop.
First, it's Desk.com to check and answer any email inquiries from BobPlumbingVideos.com, over to YouTube to check viewer comments and finally over to FaceBook to check on any inquiries from my Robert Sessa Plumbing and BobsPlumbingVideos profiles. I see someone left a message over at B.P.V. so I'm curious and the message read something like this, You've been selected as one the Top Plumbing Blogs.
Naturally, I'm curious I hit the link and was taken to an attractive looking page listing all 50 winners of which B.P.V. was sitting in the #3 position. What the heck is this I utter to myself, who posted this and where did they get all the information about all these companies? Feedspot! What is Feedspot, well that was my response so I head over to FeedSpot.Com to see what they're all about!
So FeedSpot is basically an RSS feed that keeps track of what's going on in your industry. FeedSpot allows you to "pull" industry related articles into one central location so you can stay current within your industry. So rather than searching the internet looking for all this information, they feed that information directly to you. Pretty Cool! They look at industry related blogs, websites, etc, rates them in terms of content, how often they post new content and how they show up in the search engines.
That's the best way this "blue collar" guy can explain it. If you want more information on exactly what FeedSpot is I suggest you head over to FeedSpot.Com. Needless to say, I was pleasantly surprised to be included in the Top Plumbing Blogs and even more shocked to hold the #3 spot. Incredible! I have to say its a great feeling to know that all of your hard work is being shared and appreciated by both the consumers looking for this information and other industry professionals.
A big shout out to plumberparts.co.uk the #2 spot and plumberX.com the #6 spot for also making the Top 50. They both have cool You-Tube Channels and you should check them both out. Well, there you have it, folks B.P.V. has hit the "Big Time" LOL!! Anyway back to making videos, with 5,400 You-Tube subscribers and over 100,000 views a month (as of this writing) I plan on saving boat load of people some serious bucks.
Thanks for Your Loyalty,
Regards, Bob
Top 50 Plumbing Blogs & Websites for Plumbers & Plumbing Professionals